High quality red/green blocky pepper Marrubi (E20B.0296)
On Tuesday 14th July we celebrated the naming of the red/green blocky pepper Marrubi with Glinwell Plc where they are growing 1 hectare of Marrubi for harvesting as both green and red.
Fouad Badda, Matthew Simon and Jim Parker of Glinwell plc, with Jill Kooijman and Joe Shepherdson of Enza Zaden UK Ltd.
The grower Fouad Badda and Matthew Simon, Technical Director of Glinwell were eagerly anticipating the release of the name and of course, looking forward to sharing the cake!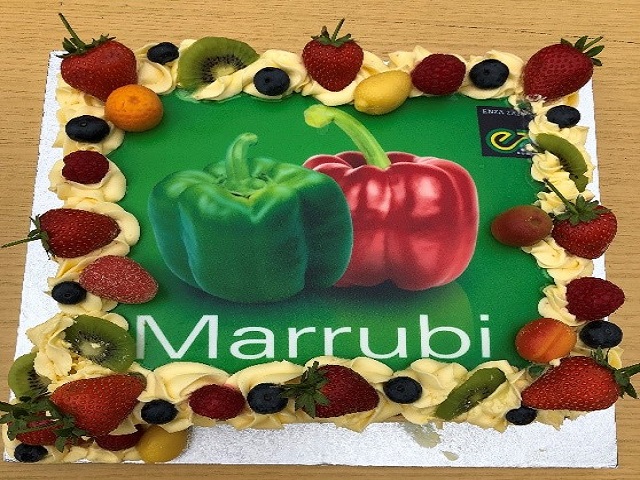 Marrubi (E20B.0296) has performed well in screenings and trials over the last two years. The fruit attributes - quality, shape, size, colour and uniformity - are exceptional.
Marrubi is a slow-ripening red pepper which reaches mature green stage a little slower than most standard varieties. The slower ripening allows enough time for harvesting green, however once coloured through the dark red, shiny fruit is very attractive.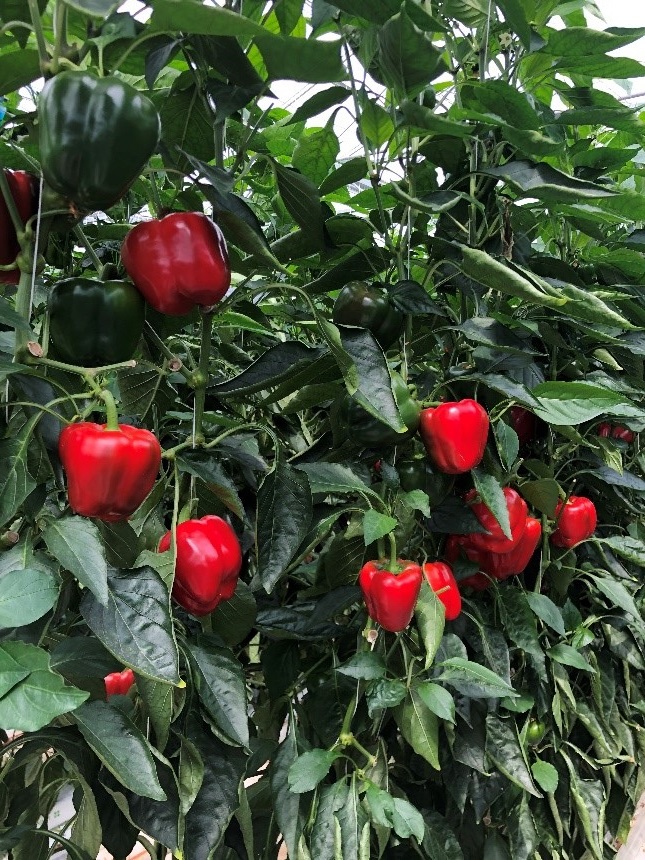 The plant is relatively compact, open and generative.
Average fruit weight harvested red is 190g, and to date this year green is a little lower at around 175g. This fruit weight is ideal for the UK market where growers want the majority of fruit to fall into the 170-200g weight bracket.


Grower's experience of the variety
At Glinwell, Fouad chose this variety because it allows the flexibility to harvest green or red. Unlike other green varieties, the fruit colour and quality is very nice when left to colour. The compact nature of the plant means it will fit in the older block of glass where he grows it. He is confident the crop will not reach the crop wire by the end of the season. It is grown with 3 heads per plant in a V-system. The plants arrived in early January as 50 day old plants.
Fouad harvests green twice per week. A small percentage of fruit is also left to turn red. The plants have survived some high temperature weeks (by UK standards) and have come through them very well despite the open, generative character of the plant.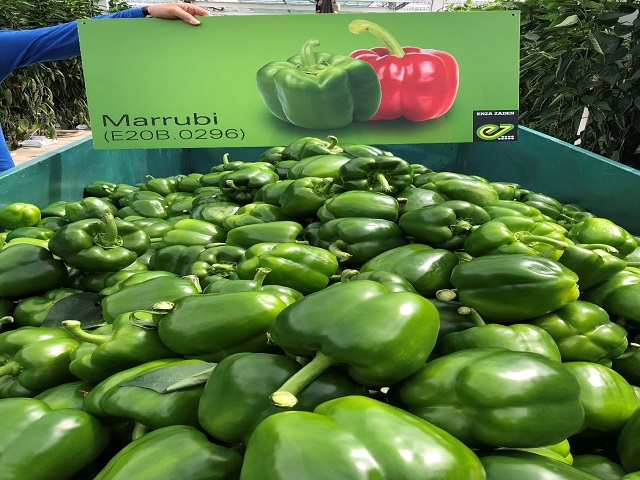 Great resistance package
At the Glinwell site they do not have issues with TSWV, so they did not choose Marrubi for its resistances. However, at other sites in the UK TSWV is an issue again this year. The Marrubi has resistance to TSWV:0 and is performing very well under high disease pressure. Once again it is in a block with a non-resistant variety which clearly shows symptoms of the disease.
Marrubi in the Netherlands
The official reveal of the name may have taken place in the UK, however the Dutch also like an excuse to enjoy cake! Irene van Schie of Enza Zaden BV presented the name board and cake to Jacco van den Ende.
Jacco has 0.6ha of Marrubi in his greenhouse this year. He values this variety for its great fruit shape and smooth fruit skin, dark red colour, and complete resistance package.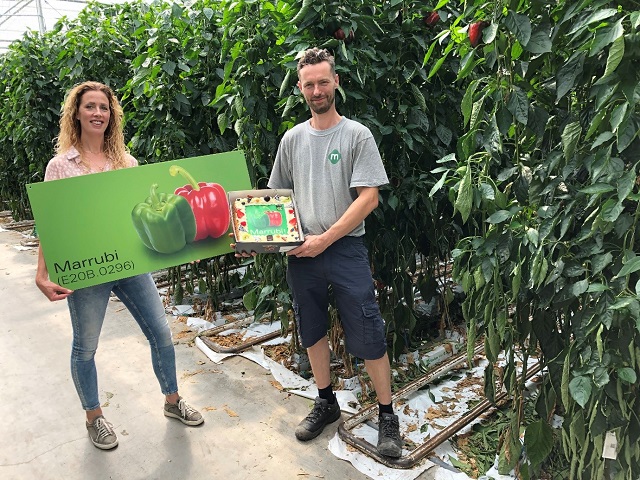 Jacco van den Ende, with Irene van Schie of Enza Zaden.
Marrubi – the overview:
• Good yield in pieces / m2
• Average fruit weight of 190g red and 175g green
• Good fruit quality and uniform shape
• Dark red shiny fruit
• Open, vegetative crop
• Great resistance package Tm:0-3, TSWV:0, Lt